XFEL: European XFEL celebrates LGBT STEM day
https://www.xfel.eu/e35178/e35455/e35456
https://www.xfel.eu/news_and_events/news/index_eng.html
news
news
news
eng
1
1
10
bottom
0
1
%Y/%m/%d
Press-Release
eng,ger
2019/07/04
Back
European XFEL celebrates LGBT STEM day
Staff members from the LGBT+ community share their stories
Friday 5 July is the International Day of LGBTQI+ People in Science, Technology, Engineering, and Maths (LGBT STEM Day) to raise awareness and show support for the LGBTQI+ in STEM community. As an international, science-driven company, European XFEL, values individuality and diversity, and is working hard to ensure a positive and welcoming work environment where everyone, irrespective of religion, cultural background, gender, and sexual orientation, feels safe and is able to be themselves. Today we are celebrating LGBT STEM day, to show our support for the LGBT+ community and to indicate that we do not tolerate discrimination of any kind.
To mark LGBT STEM day, several European XFEL staff members have offered to share their stories about being LGBT+ in STEM. You can find their stories below. Our colleagues feel strongly that being visible as LGBT+ in STEM is important to break down prejudices, raise awareness, and contribute to a more inclusive working environment. We do too, and we hope you will take time to read their stories.
The European XFEL Management Board
----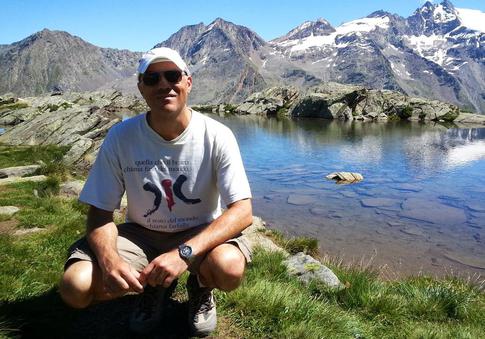 Antonio Bonucci
I work at the intersection of the fields of administration and technology, and am surrounded by a lot of cultural diversity in my work, not only in terms of internationality, but also in terms of academic background or industrial experience.
I'm used to being in diverse environments, which is great for innovation – my field of interest. The variety of what makes us human – traditions, religions, interests, knowledge and approach to work – bring different perspectives to the table. In this variety, I am gay – that is just another part of who I am.
I have been lucky, and have never experienced any harassment for who I am. In my job, in my family, in the circle of my friends, not only I was accepted but I was free to share my personal life. This is the best way to live – homosexuality is only one aspect of my personality.
However, there is always the risk of homophobic behaviours, even in seemingly tolerant and liberal environments. Even here in the Hamburg area, it happens that gay people can be harassed or beaten up by rogue groups. Prejudice can simmer under the surface in work environments where there is even clear support and understanding from the management level, before maybe eventually revealing itself in a surprising and damaging way. The media-- perhaps without intent, just ignorance--sometimes misrepresents homosexuality as being some nefarious agenda, or they label crimes as being "gay", like for instance homicide or corrupted lobbies, as if homosexuality is the source of illegal or immoral behaviour. That can inflame prejudices and provoke attacks on the gay community. Therefore, it is important that we show others that we share the same emotions and daily lives as them.
In the past I have participated in group activities related to my interests organized by the gay community. Hiking or swimming for example. These gay groups were always open to straight people. This is an important step to show that, gay or straight, we were all men and we can share similar passions, and that, my gay colleagues and I, are just trying to make a better world for us and for all future generations.
----
Ivana Klackova
I am a Ph.D. candidate in Physical Engineering working for European XFEL.
I am a happily married lesbian woman.
My research activities involve characterisation and calibration of semiconductor detectors and my Ph.D. research is based on investigation of impacts of ionizing radiation on the EuXFEL's detectors.
Coming from a conservative and religion-driven culture, speaking about my personal life in a working environment was always somehow difficult. Rather than explaining my situation, I simply omitted or re-directed such conversations. It was stressful and dishonest.
As I am living in Hamburg for a few years, already my attitude has changed a bit, and I can speak more freely and openly, although some hesitation is still present.
Therefore, I am very happy and appreciate very much that European XFEL puts a lot of effort into building a friendly and welcoming environment for all of us, regardless of who we are. It is important to build trust and ensure that one feels comfortable and safe between colleagues. Thank you!
----
Ulf Zastrau
I am an experimental physicist, a classical singer and I am gay.
I am head of the High Energy Density group at European XFEL. I am privileged to work with a team of 30 international, diverse scientists, engineers, technicians and students to provide one of the brightest X-ray sources to international research groups for their experiments.
I have always been open and honest about being gay, but being gay is just one part of my personality. I am lucky enough to have accepting and loving parents, grandparents and family, and have always worked in tolerant and welcoming environments at school, at university and here at European XFEL. So I have never had the feeling I had to fight for my rights, or hide that part of my personality. I have been allowed to just be me.
But not everyone has a tolerant and liberal upbringing. Sometimes people who have known me for a while, and not known that I am gay, are surprised to realise that we are just "normal" people too. Getting to know me made them re-think their sometimes intolerant attitude and prejudices against gay people in general.
Living in a relatively tolerant and diverse environment, from time to time I even forget that I am part of a so-called minority. That is the nicest feeling, but I know this is not everyone's experience. That's why I am convinced it helps to be visible, to raise awareness, break down stereotypes and prejudices, and let others who can not be so open about their identity know that they are not alone.
----
Tom Preston
I am gay and a physicist.
I work as a scientist in the HED instrument. I completed my PhD at the University of Oxford in 2017 and specialised in isochoric heating of hot dense plasmas. Here we are able to use ultrashort X-ray pulses to diagnose and heat matter to millions of Kelvin in a tiny fraction of a second, before the target has time to explode. I moved shortly thereafter to a post-doctoral position at European XFEL, where I have had the opportunity to expand my research in High Energy Density (HED) science more generally. I now also work on a wide range of laser drivers to create HED matter, from X-ray only experiments, to shock-compression with nanosecond joule-class optical lasers, and ultrafast heating with tightly-focussed, high-intensity lasers. Initiatives to increase exposure of LGBTQI* people working in STEM are hugely important, and this is part of my contribution to furthering those goals. I hope that together we can inspire more young LGBTQI* students to pursue careers in STEM research.
----
Frederico Lima
I am an Instrument Scientist at FXE and I am gay.
I have completed my PhD in physics at EPFL in Switzerland in late 2011 studying ultrafast processes on bio-chemical systems. Here at XFEL I am one of the responsibles for the daily operation of the FXE instrument and support to external user groups, mainly focusing on the high resolution X-ray spectroscopy initiatives.
My scientific interests comprise the investigation of the electronic and structural properties of electronic labile compounds, models of catalytic systems, bio-inspired molecular systems, compounds acting as drug mimetics and their ultrafast temporal evolution; always employing a combination of X-ray techniques and quantum chemical calculations. On a personal side I am passionate about nature and very interested in outdoors activities and sports. A few of my favorites are hiking, snowboarding and biking. I love cooking (and eating!) and am also a great appreciator of jazz and abstract art.
Being part of the LGBTQI+ community is just another side (out of many!) of my personality and life. I believe this should be made visible to all, not only to promote equality and awareness in STEM community and in our society in general, but also to support those that feel insecure to openly live this aspect of their identities.
----
Janna Eilers
I am a technical team leader in the Electronic and Electrical Engineering group, a member of our works council and LBTQ*
What does your job involve?
A very wide range of tasks. My main task is to coordinate the technical tasks of our plc systems and to coordinate them with the experiment groups. Especially as a works councillor, I can set a strong sign against discrimination and intolerance. Hate has no place with us.
How did you get to this job?
My dream was to work in a research facility like XFEL. As an electrician I started my career. I specialized to program and build up PLC systems. After that also the project management.
Do you feel being LGBT has affected your career decisions?
No, I'll do what I want. This is my life.
Have you had any reactions from colleagues about being LGBT, either good or bad?
Not here at XFEL. In my former company I sometimes had problems.
Did you have any role models growing up?
Yes! Marie Curie, an impressive person.
What are your plans for the future?
I will see that then.
Anything else you'd like to add?
I also support LGBTQ * in politics. We are all human. No love is illegal and no way of life should be hated and rejected. I add IQ * to add all inter and queer.
(This interview was originally published here)
----
Denivy Ruck
I've studied Computer Science in Santa Catarina State University in Brazil and came to European XFEL to work in the development of Karabo. Also, I'm gay!
As you may know, Brazil has, throughout its history, become a very religious and conservative country which continues to create obstacles for people to express themselves as they are, may this be their sexual orientation, gender expression, race or religious beliefs. This forces these people to group in communities where it's the only place they find support and council. This movement is also seen in other countries where any form of oppression is experienced.
Seeing companies such as European XFEL reaching out and supporting these minorities is a very warm and embracing feeling. This brings us closer together and helps us appreciating our differences, which for me is what life is all about.